Posted by: hammock gal on June 24th, 2011 at 3:55 am
Time sure does fly a whole lot quicker the older I get. It is almost July already!
Hurricane season started back on June 1st, we have had a gazillion birthdays this month, okay, maybe just 12, but still, including Momma, whose birthday is still coming up (along with my cousin 'Uncle Sean', his is the same day as my mom). She will be turning 75 this year, and we are so thankful and grateful that she is still with us. Most of the time. ;o) We have had some yucky viral infections already, plus some really bad luck with vehicles. Two, count them, two vehicles needing new batteries, at the same time, as well as flat tires. Geesh!
We are trying to get my grandfather's house ready to go up for sale in Miami, so have been trying to deal with that, as well as we are selling our commercial property in Miami. Know anyone who wants to purchase a convenience store in prime location? :D
And what is up with this weather. Jeminy christmas it has been major hot and it only just turned officially summer. I do not want to think about what August and September are going to be like, which are usually our hottest times. According to the Climate Prediction Center our temperatures will continue to be above normal, from the looks of it, all southern states will continue to be above normal. Some good news though coming our way, per the CDC Climate Weather Linkage El Niño Southern Oscillation Weekly Presentation, we are transitioning out of La Niña conditions into ENSO-neutral condtions.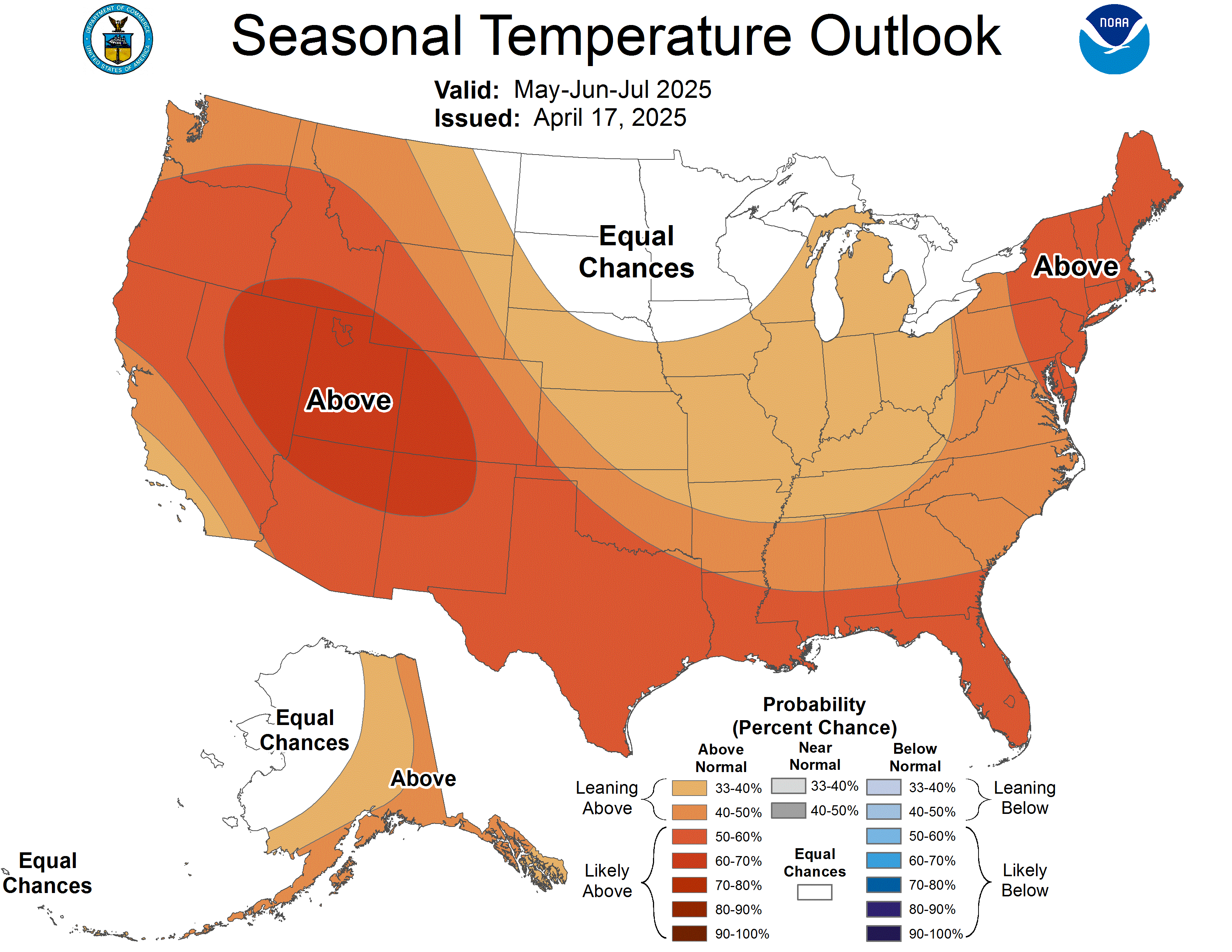 ---
- temperature outlook & probabilities -
Now on to other stuff. There are a lot of food bloggers that are going to this conference or that, while I wish I could go, not real feasible since I am my mother's caretaker. Although she would nix that in a heart beat if she ever knew. So, for now, I live vicariously through others, watching their tweets as they talk about what they have learned, as well as their blog recaps. Not quite the same, but I am learning all the same, which makes me happy since I am a perpetual student. :o)
I have learned some others things too, one being that I love to bake things for family and friends, more than I truly knew, another is that I will never be a gourmet chef or cook. Once in a while is great and I do love learning new ways, but I am just a simple girl with simple tastes. I do know that I do not like caviar, but I enjoy oysters. Put steamed asparagus in front of me and I am a happy camper, likewise, make it livers or snails and I will back-peddle to get away. ;o) I like keeping some family traditions, while others I could do without. I love having game night and would rather do that than ever have the television on. I am just as likely to eat frozen key lime pie before I would eat crème brûlée, yet I make delicious coq au vin.
I think that is enough… just my random thoughts.
Oh, and Happy Anniversary Daddy and Momma! Is that too weird, to say that, even though my Dad is no longer with us? It would be 55 years of marriage today. You know, weird or not, I do not care. ;o)
Go and smile, say hello to someone new, or ask how someone's day is going and actually want to know the answer. Kindness is contagious, a smile is worth a thousand words and laughter can heal so many ailments.